Last week, I left Baltimore's lovely Inner Harbor for a southbound road trip to Lauderdale where the boat will be wintering. I drove the van while the rest of the crew drove the boat. In Virginia I saw this sign on the freeway. What exactly this means I don't know but I find the premise awesome. I hate those Type A/coked out nutjobs who weave from lane to lane.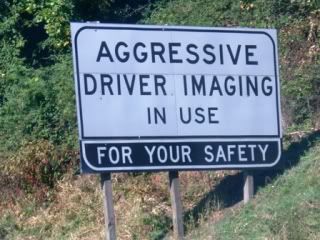 My first stop was in Arlington, Virginia to visit my doctor friend Patrick. At his office, I was greeted by his two dogs. Who gets to bring their dog to work (besides Burton employees)? And to a hospital, no less. Lucky, lucky him.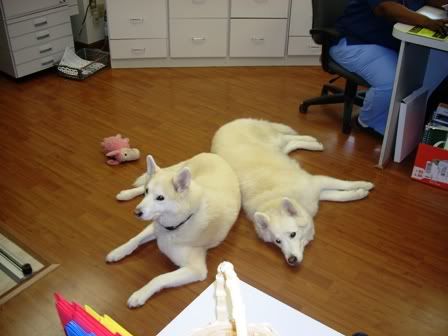 Look how gorgeous his mellow hound babies are. These handsome boys were only twenty-five bucks each, courtesy of a shelter. They're Husky/Golden/Lab crosses. Who needs purebreds when lovebugs like them need a good home?
One of Patrick's patients gave him this print of doctor fees from the 1800s. Click on the image to actually read what the doctor charged -- fun stuff. It's amazing how cheap everything was. The prices reflect cents, not dollars!
I then headed east across the Potomac to D.C. to visit a long lost friend whom I hadn't seen for seven years. Carol got her M.A. in Fine Arts and now holds a swanky position at the Smithsonian. After lunch, I made her pose with me in front of Casa Blanca like a tourist. She was mortified and prayed none of her co-workers would stroll by to witness this.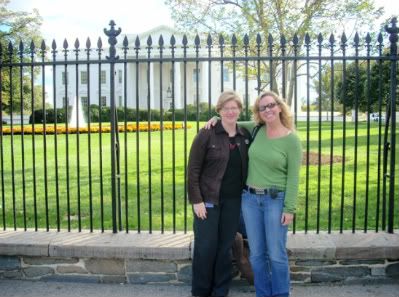 Back during grad school I set her up with a guy friend from my Tae Kwon Do class, and they hit it off, got married, and now have two kids! I love matchmaking.
Heading out of downtown and looking for 95 South, I got stuck in rush hour traffic. Up next to me pulled a bus with quite the ad campaign for the Washington ballet. I was aghast as I did a double take, and then laughed my ass off as I grabbed for the camera to capture this too much muchness.